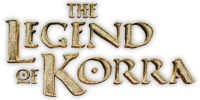 The Legend of Korra is an American animated television series that premiered on the Nickelodeon television network in 2012. It was created by Michael Dante DiMartino and Bryan Konietzko as a sequel to their series Avatar: The Last Airbender, which aired on Nickelodeon from 2005 to 2008. Several people involved with creating Avatar, including designer Joaquim Dos Santos and composers Jeremy Zuckerman and Benjamin Wynn, returned to work on The Legend of Korra.
The series is set in a fictional universe where some people can manipulate, or "bend", the elements of water, earth, fire, or air. Only one person, the "Avatar", can bend all four elements, and the Avatar is responsible for maintaining balance in the world. The series follows Avatar Korra as she travels to the metropolis of Republic City to learn airbending and face an anti-bender revolutionary group called the "Equalists."
The series, whose style is strongly influenced by Japanese animation, has been a critical and commercial success. It obtained the highest audience total for an animated series in the U.S. in 2012, and it was praised by reviewers for its high production values and for addressing difficult sociopolitical issues such as social unrest and terrorism. It was initially conceived as a miniseries of 12 episodes, but it is now set to run for 52 episodes separated into four "books," each of which tells a separate story.
Ultimate Nickelodeon Brawl Stars X
Edit
Korra and Asami Sato appear as playable characters. Amon appears as an unlockable character who has to be unlocked by earning 5000 Tozin Tokens or win 25 online matches. Tozin Tokens are also special collectables in the game.
Mako and Lin Bei Fong appeared in the "Days of the Future Past" art. Mako was slain while Lin had escaped.
Super Brawl
Edit
Korra and Amon appear as playable characters in Super Brawl 3, representing the new Avatar series. Korra is on the good side of the team and Amon on the bad side of the team. They also have a stage which is the Aang Memorial Statue where you fight on a stone arm of Aang's statue. In the background you can see Rebellion City.
Later Tahno and Tenzin were added to the roster. However nothing is known about them currently except that Tenzin is on the good side and Tahno on the bad side.