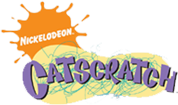 Catscratch is an American animated television series created by Doug TenNapel. It was aired on Nickelodeon in 2005 and on Nicktoons in 2005. It was also shown on Nickelodeon UK / Ireland in 2006. It is a lighthearted adaptation of TenNapel's graphic novel, Gear, which is also the name of the cats' monster truck. The series features music composed by longtime TenNapel collaborator, Terry Scott Taylor. Catscratch's first DVD appearance was on Nick Picks Vol. 3, which came out February 7, 2006 (though the DVD contained only "Bringin' Down the Mouse").
Nicktoons: Attack of the Toybots
Edit
Mr. Blik appeared as a Master Model that you have to collect in the console version of Nicktoons: Attack of the Toybots. However he appears as a playable character in the handheld version of the game. He uses his claws to scratch his opponents. Because he is playable in the handheld version, Waffle appears as a Master Model.
Ultimate Nickelodeon Brawl Stars X
Edit
Mr. Blik appeared in Ultimate Nickelodeon Brawl Stars X in the "Days of Future Past" art. He was one of the may character who got apprehended. The cats were immediately cut as characters in the game because of the minority of the show, and tasteless humor.
Ad blocker interference detected!
Wikia is a free-to-use site that makes money from advertising. We have a modified experience for viewers using ad blockers

Wikia is not accessible if you've made further modifications. Remove the custom ad blocker rule(s) and the page will load as expected.