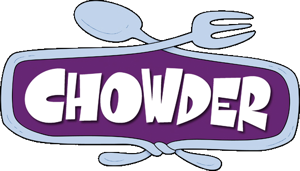 Chowder is an American animated television series created by C.H. Greenblatt for Cartoon Network. The series follows an aspiring young chef named Chowder and his day-to-day adventures as an apprentice in Mung Daal's catering company. Although he means well, Chowder often finds himself in predicaments due to his perpetual appetite and his nature as a scatterbrain. He is also pestered by Panini, the apprentice of Mung's rival Endive, who wants Chowder to be her "boyfriend", which he abhors. The series is animated with both traditional animation as well as short stop motion puppet sequences that are inter-cut into the episodes, and that run over the end credits.
Chowder premiered on November 2, 2007, and ran for three seasons with 49 total episodes. It garnered one Primetime Emmy Award win, six Annie Award nominations, and two additional Emmy Award nominations during its run. The series finale, "Chowder Grows Up", aired on August 7, 2010, and features C.H. Greenblatt as the voice of the adult Chowder.
Punch Time Explosion
Edit
Chowder & Kimchi appear as a playable duo character in Punch Time Explosion. They are the only playable character to represent their show. They have three stages which are Mung Daal's Kitchen Rooftop/ Mung Daal's Kitchen, The Streets of Marzapan and Mount. Fondoom which is only for the console version.
The show however does have the most assist characters, having a total of 4 assist characters who are Mung Daal, Schnitzel, Panini and Gazpacho.
Ad blocker interference detected!
Wikia is a free-to-use site that makes money from advertising. We have a modified experience for viewers using ad blockers

Wikia is not accessible if you've made further modifications. Remove the custom ad blocker rule(s) and the page will load as expected.