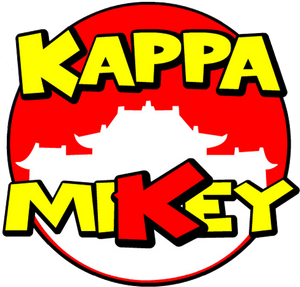 Kappa Mikey is an American animated sitcom created by Larry Schwarz, who chose 4Kids Entertainment as the worldwide licensing, marketing and official promotional agent of the series. The show is Nicktoons's first original half-hour series, bought during the same period as other Animation Collective series such as Three Delivery and Speed Racer: The Next Generation, as well as Flash shows from other studios, such as Edgar & Ellen and The Secret Show, though the latter was made from BBC. The series premiered on January 6, 2006, as Nickelodeon aired several reruns and premieres as a promotional movement from August 20, 2006 to January 2007. The series is MTV's first global acquisition, and is currently available on iTunes.
Kappa Mikey was marketed as "the first anime to be produced entirely in the United States", according to press releases from MTV, Nicktoons Network, and various other sources, as the term anime in English is generally reserved for animation originally produced for the Japanese market. It uses Japanese animation and culture as inspiration for its concept, rather than being "true" anime. As a matter of fact, the series is a homage/parody of Japanese anime. On February 16, 2008, during their "Music Week", Nicktoons Network aired their first and only original television movie, an hour-long Kappa Mikey musical entitled "Kappa Karaoke". Officially, the episode's title is "The Karaoke Episode".
The last three episodes aired after the show was stuck on a hiatus. These episodes were aired in September 2008, and declared the season (series) finale after September 20.
Ultimate Nickelodeon Brawl Stars X
Edit
Mikey Simon appears as a playable character in Ultimate Nickelodeon Brawl Stars X. He is a Wii-U exclusive character, and the only one to represent his franchise.
Ad blocker interference detected!
Wikia is a free-to-use site that makes money from advertising. We have a modified experience for viewers using ad blockers

Wikia is not accessible if you've made further modifications. Remove the custom ad blocker rule(s) and the page will load as expected.