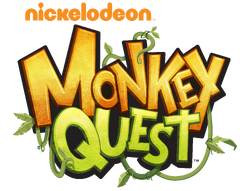 Monkey Quest is an MMO geared toward children's multi-player gameplay It was developed by Nickelodeon Virtual Worlds Group and launched in March 2011. It was showcased at GDC in 2011.
The player's monkey enters the land of Ook. The player is then able to travel around and meet new inhabitants of the virtual world. The player needs to complete multiple quests along the way. He/she can meet friends, buy new objects, or visit the Mayor Bumbee. As the user plays, his/her monkey unlocks more lands, discovers more about the legendary Monkey King, and can become a tribal leader.
Super Brawl
Edit
Monkey appears as a playable character in Super Brawl 2 only. Monkey Quest also has its own stage which is the Forgotten Temple.
Nicktoons MLB
Edit
Hiro Mightypaw appears as a playable character in Nicktoons MLB. He is the only character to represent his franchise in the game. He also is added in the 3DS version along with Jimmy Neutron, and thus is not playable on the Wii.