==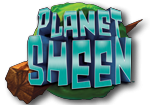 Planet Sheen is an American CGI animated television series. It is the 2010 spin-off of the 2002 series The Adventures of Jimmy Neutron: Boy Genius as well as the 2001 Oscar-nominated film Jimmy Neutron: Boy Genius. The show was created by John A. Davis, Keith Alcorn, and Steve Oedekerk and based on characters created by John A. Davis. The series has been picked up for 26 episodes by Nickelodeon for its first season. Jeffrey Garcia returned as the voice of Sheen, and Bob Joles and Rob Paulsen are the voices of Nesmith and Doppy. The series was originally produced by C.O.R.E. in Toronto, but production moved to Bardel Entertainment in Vancouver after C.O.R.E shut its doors. Planet Sheen premiered on Nickelodeon on October 2, 2010 (along with T.U.F.F. Puppy) in the United States. The pilot episode was attached to a Fanboy and Chum Chum DVD.==
Ultimate Nickelodeon Brawl Stars X
Edit
Sheen Estevez appears as a playable character in Ultimate Nickelodeon Brawl Stars X. He has travelled back to the world with a rocket to see his friends but found himself in a war.
His has a special costume which is him wearing his Ultra-Lord costume.
Super Brawl
Edit
Sheen appears as a playable character in Super Fall Brawl and Super Brawl 2. In Super Fall Brawl his stage was the House of Pain, but that got replaced by the stage Zeenu in Super Brawl 2. He is the only character of his show represented. He did not return in Super Brawl 3.
Nicktoons MLB
Edit
Sheen, Ultra-Lord and Mr. Neswick appear as a playable character in Nicktoons MLB. They also have an own stadium which is the Yolkus Stadium.