Super Brawl
Home screen
Developer(s)
Nickelodeon
Publisher(s)
Nickelodeon
Platform(s)
PC
Genre
Fighting, Crossover
Mode(s)
Training, Arcade, Tournament
Super Brawl is the spiritual succesor of Jingle Brawl. This is the second game and features one more character and stage than its predecessor. It was released during the time of the Super Bowl.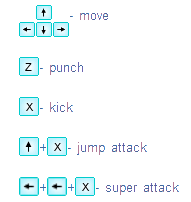 Playable Characters
Edit
Starter Characters
Edit
Unlockable Characters
Edit

Non-Playable Characters
Edit
Returning
Edit
Dr. Blowhole and the Coney Island Hideout are unlocked upon beating Dr. Blowhole in tournament mode.
Ad blocker interference detected!
Wikia is a free-to-use site that makes money from advertising. We have a modified experience for viewers using ad blockers

Wikia is not accessible if you've made further modifications. Remove the custom ad blocker rule(s) and the page will load as expected.