Super Fall Brawl
Home screen
Developer(s)
Nickelodeon
Publisher(s)
Nickelodeon
Platform(s)
PC
Genre
Fighting, Crossover
Mode(s)
Training, Arcade, Tournament
Super Fall Brawl is the fourth game released in the Super Brawl series. The game has all the content of the previous game Super Brawl Summer as starter content and added one new characters, as well as a new stage. The game was released, as the title already says, in the fall.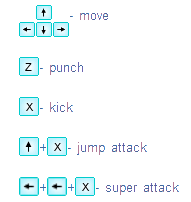 Playable Characters
Edit
Starter Characters
Edit
Unlockable Characters
Edit
Sheen SUPERFALLBRAWL
Non-Playable Characters
Edit
Returning
Edit
Sheen and the Planet Zeenu are unlocked upon beating Sheen in tournament mode.
becareful
Ad blocker interference detected!
Wikia is a free-to-use site that makes money from advertising. We have a modified experience for viewers using ad blockers

Wikia is not accessible if you've made further modifications. Remove the custom ad blocker rule(s) and the page will load as expected.