Tak and the Power of Juju is an all CGI-based animated series that premiered on Nickelodeon on August 31, 2007 and on Nicktoons on September 1, 2007. It has been showing on Nicktoons in the United Kingdom since 5 July 2008. Based on the video game of the same name, the show consists of two eleven minute stories per half hour episode. It is Nickelodeon's first all-CGI series (produced in house) and the company's 30th Nicktoons. The series was produced by Nick Jennings and directed, among others, by Mark Risley, Jim Schumann, and Heiko Drengenberg. The show struggled to gain an audience, received many negative reviews and ended up being cancelled in November 2008 after only 26 episodes.
Nicktoons Unite! Series
Edit
Nicktoons: Attack of the Toybots
Edit
Tak appears as a playable character in Nicktoons: Attack of the Toybots. He is introduced early in the game and helps the heroes. He fights with a wooden stick and his special costume is him in a Chicken Suit. He also has an own bonus game in which he must reach the end by climbing walls, jumping on platforms and evading spikes and other hazards.
In the handheld version Jibolba is a Master Model.
Nicktoons: Globs of Doom
Edit
Tak appears once again as a hero in Nicktoons: Globs of Doom. Also Traloc appears but as a member of the Syndicate of Evil, who eventually turn their backs on the heroes. Pupununu Village is the last dimension the team visits in the game, and the only one without a boss. The only one who you have to save there is Jibolba.
Ultimate Nickelodeon Brawl Stars X
Edit
Tak appears as a playable character in Ultimate Nickelodeon Brawl Stars X, and the only one representing his show. In the game he wield the Staff of Dreams which he got from his mother. He also constantly has the skull of Party Juju with him, after he found him in his destroyed village.
Nicktoons: Freeze Frame Frenzy
Edit
Tak appears in the background as one of the people who can be photographed. He however is the only one from his game to appear, as the show wasn't made at the time.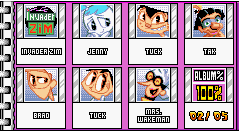 Ad blocker interference detected!
Wikia is a free-to-use site that makes money from advertising. We have a modified experience for viewers using ad blockers

Wikia is not accessible if you've made further modifications. Remove the custom ad blocker rule(s) and the page will load as expected.