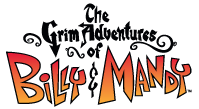 The Grim Adventures of Billy & Mandy (often shortened to simply Billy and Mandy) is an American animated television series that aired on Cartoon Network. The show began in 2003 and is a spin-off of the show Grim & Evil. The Grim Adventures of Billy & Mandy follows two children, Mandy and Billy, who after winning a game to save Billy's ten-year-old pet hamster, gain the Grim Reaper as their best friend and slave forever. The show ran from June 13, 2003, to November 9, 2007 (though due to a failed spin-off, it ended by default on October 12, 2008), in all seven seasons with seventy-one episodes were made in its original run. In addition to the episodes three movies, two special episodes, and nineteen shorts were made, with 3 award wins for the series as a whole. Billy and Mandy has also been made into a video game as well as various licensed merchandise.
Punch Time Explosion
Edit
Grim Reaper, Billy and Mandy appear as playable characters in Punch Time Explosion, with Billy and Mandy being a duo character. Hoss Delgado was added in the XL version of the game.
The show has three stages based on the show; Toadblatt's School of Sorcery, Graveyard and Underworld. The show also has two assist characters who are Dracula and General Skarr.
Cartoon Network Crossover Chaos!
Edit
Grim Reaper appears as a playable character in Cartoon Network Crossover Chaos!, looking exactly like he does in the show, except that he has a little pouch and rope around his hips and shoulders.
Ad blocker interference detected!
Wikia is a free-to-use site that makes money from advertising. We have a modified experience for viewers using ad blockers

Wikia is not accessible if you've made further modifications. Remove the custom ad blocker rule(s) and the page will load as expected.